Spring Cycle from Atlantique Villa Camps Bay
Posted by Admin on Wed November 7, 2001.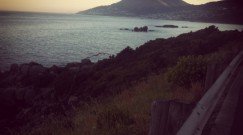 Just as morning light starts peaking over the horizon, I adjusted my helmet and set off for an early morning cycle from Atlantique Villa Camps Bay. Freewheeling down the winding road towards the crashing waves, the cool fresh ocean air wakes me up to reality as I turn left onto the coastal road which has got to be a cyclists dream road at 6am, deserted, and flanked by the Atlantic Ocean on my right and the 12 Apostles Mountain Range on my left, pure undiluted nature at its best!
With not a car on the road, I'm greeted by a multitude of other cyclists and runners, all out taking advantage of the beautiful weather on this pristine coastline. I stop for a water break at the Oude Kraal entrance, there are  scuba divers getting ready to  head out into the protection of the little bay whose waters are crystal clear but the Cape saying pops into mind "the bluer the ocean, the colder the water" I'm glad I'm not getting in that icy water. Drinks break over, I slowly start the uphill climb to the top of Suikerbossie, and the only perk of getting to the top is the sweeping views that greet you as you look back towards Camps Bay as the first rays of sunshine pop over Table Mountain.  Of course a moment like this can't be fully captured in a photo but I had to take one anyway just to make certain people envious!
What goes up has to come down, and being able to wizz down the mountain pass that you just spent the last 30 minutes climbing is the best feeling in the world between that and knowing that your favourite coffee stop is a mere  4km away and those 'caffeine withdrawals' are starting to kick in.
With a steaming cup of freshly brewed coffee in hand, looking out at the Atlantic Ocean at 7am on a glorious Sunday morning, not a breath of wind, this is why I love Cape Town!