Cape Town voted Telegraph's Top City in the World
Posted by Admin on Thu December 20, 2018.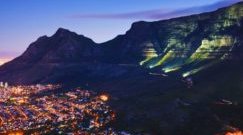 Cape Town was voted as the greatest city on Earth in the Telegraph Travel Awards survey for 2018, making this the sixth year in a row that the Mother City has claimed the top spot.
Over 45 000 readers responded to the survey and Cape Town was placed at number one, above popular cities Tokyo, Vancouver, Seville and, Sydney in fifth place. From Table Mountain to wine farms to the penguins of Boulders beach, not to mention the laid-back Capetonian lifestyle, there are dozens of reasons tourists and locals flock to the Mother City's shores for their holiday destination.
Stay at Atlantique Villa Camps Bay and experience Telegraphs # 1 in the World! (Telegraph Travel Readers, UK)