Choose Atlantique Villa Camps Bay - as one of very few TGCSA FIVE STAR GRADED 'SELF CATERING - EXCLUSIVE' Properties in Camps Bay
Posted on Tue June 15, 2021.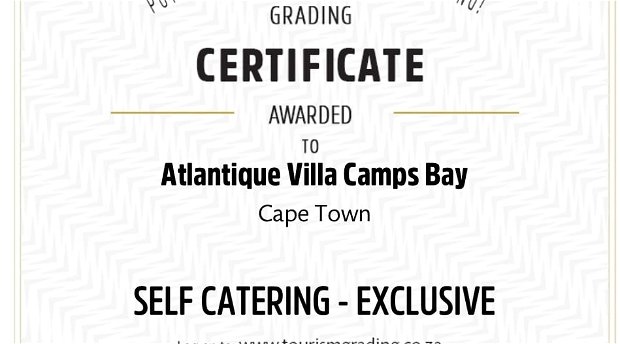 TGCSA Assessor's Summary of Atlantique Villa Camps Bay 5 Star Grading - 12 May 2021.
Atlantique Villa Camps Bay is a magnificent ultra- luxurious property where the emphasis is on luxury and service. Guests are truly pampered and have an unforgettable experience. Each of the four suites is individually decorated and furnished, with every thought given to guest care and comfort. The villa has spectacular sea views and the colour of the ocean is brought right into the house with the soft blues and aquas used in the decor throughout the villa. The attention to detail is superb with every guest need well anticipated.
Exterior: Strengths
A magnificent split level archicturally designed villa in outstanding condition. Outstanding security. Magnificent sparkling pool set in a well maintained garden. A borehole and water tanks installed.
Bedrooms: Strengths
Exquisite decor in soft blue tones, meticulous attention to detail. Silk duvets and pillows add an element of luxury and each room has a comfortable seating area, large flat screen television and outstanding in room facilities.
Bathrooms: Strengths
Modern bathrooms with contemporary fixtures and fittings including spa baths. Outstanding lighting and decor. Heated towel rails, underfloor heating and thick fluffy towels. Outstanding selection of toiletries beautifully presented.
Kitchens: Strengths
Well-designed modern kitchen, exceptionally well equipped. Large hob and oven, additional gas plates in case of power outages. Microwave convection oven, double door fridge/freezer and additional chest freezer. Nespresso coffee machine, food mixer, blender. Full laundry, dishwasher, washing machine and tumble drier. Fully serviced daily including complimentary laundry service.
Lounge, Dining Room and Patio: Strengths
Comfortable and beautifully furnished with a calm and relaxing ambience. Magnificent view of the ocean from every angle. The occasional carpets make a lovely statement and the carefully chosen pieces of art and the orchids enhance the decor. Apple Mac for guest use.
General Services & Service: Strengths
A very professionally run establishment offering outstanding services to their guests.
Housekeeping: Strengths
Outstanding attention to detail throughout.
Overall Areas for Improvement
No areas for improvement encountered.